Children & Young People
Cyberbullying
Cyberbullying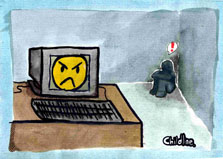 Cyber bullying is bullying that takes place online. It is when a person or a group of people use the internet (eg; via social media/ chat rooms), email, online games or any other kind of online technology to tease, upset, humiliate or threaten someone else
As a child or young person, you have a right to be safe in all environments, for example, at home, school, on the street and on the internet.
It is the role of Parents; Carers; Teachers; Learning mentors; Doctors; Nurses; Social Workers; Police Officers; Faith leaders, Youth Workers and Sports Coaches to ensure that you are safe from harm.
If you've got a problem or are worried about someone, such as a brother or sister, or a friend, it can be hard to know what to do. But you don't have to cope on your own. As a child or young person, you have the right to grow up safe from people hurting you or failing to ensure that you are cared for.
If you are being cyber bullied, the first step is to tell someone that you trust eg, your parents or a teacher. No-one should go through this alone.
For more information on cyber-bullying and what to do to stop it happening, see the following helpful websites:
Kidscape http://www.kidscape.org.uk are the first charity in the UK established specifically to prevent bullying and child sexual abuse.
Childline http://www.childline.org.uk/ No matter what you're going through, you can always talk to a ChildLine counsellor on 1-2-1 chat for support and advice or you can call ChildLine at any time on 0800 1111 to speak to a counsellor. Calls are free and confidential.
Thinkuknow http://www.thinkuknow.co.uk/ Come in to find the latest information on the sites you like to visit, mobiles and new technology. Find out what's good, what's not and what you can do about it. If you look after young people there's an area for you too – with resources you can use in the classroom or at home. Most importantly, there's also a place which anyone can use to report if they feel uncomfortable or worried about someone they are chatting to online.